Diamond Spirit Leadership Camp
One of the great initiatives that the Confident Girls Foundation funds is the Diamond Spirit program. Run in partnership with Netball Queensland and the Queensland Government, it supports Aboriginal and Torres Strait Islander students through their education journey. This all-year-round initiative works to create both everyday tools for its participants as well as exciting additional opportunities.
One such opportunity was the Leadership Camp run in June 2019. For 14 young Indigenous students it was an opportunity like no other. They were flown into Brisbane on Friday 14th June where they had the opportunity to tour the University of Queensland campus with Confident Girls Foundation Ambassador, Laura Clemesha.
"To hear how many of the girls only play sport in school because they can't afford to do any club sport (while some said how much they'd love too) was such a good reminder to myself personally about the disparity Confident Girls Foundation is working so hard to help address," Clemesha said, "and also how genuinely life-changing the Diamonds Spirit program is."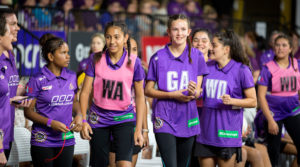 The students spent the weekend challenging themselves through some amazing activities and pushing outside their comfort zone. They continued to thrive in each new environment, as they continued to explore and ask questions.
The camp also coincided with the Suncorp Super Netball Indigenous round which celebrates Aboriginal and Torres Strait Islander culture. At the conclusion of the weekend, the girls attended the Firebirds vs Vixens Super Netball game, where they presented the Queensland Firebirds with message sticks hand painted by the students.
The celebration and recognition of Australia's traditional owners is something that betters society but more importantly, shows young Aboriginal and Torres Strait Islanders that their culture is no longer something that needs to be hidden.
After the game the girls had the opportunity to meet the Firebirds; getting to take photos, ask questions and make friends with inspiring women. A great opportunity to show the girls the variety of paths they could take with their lives.
Diamond Spirit is a program that addresses some key inequalities present in Australian society for Aboriginal and Torres Strait Islander girls. We are proud to support it and can't wait to see how it's inspiring participants continue to grow!